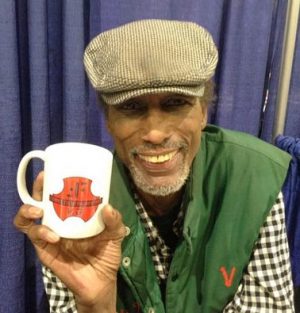 We first met Michael at Hartford Comic Con in 2015. Michael was a last minute addition, so we scrambled to get a few Visitors together, which wasn't hard since we were all there doing 501st duty already. We told him the V fan community was wondering how he was, what he was up to, etc. and he was genuinely touched for the love. He recalled what great time making V was, working with "Janie" and he still remembered all of his iconic Elias lines!
It was not the last time we saw him as he joined the guests at Rhode Island Comic Con that same year. At RICC we were able to exhibit the Laser Jeep and the newly added V Bike and Michael not only came to say hello to all of us, but emblazoned our Jeep with his signature spray-painted V!  Watch the video here!
After the con ended on Saturday night, he and his wife decided to hang out with us for the evening, and he told us some amazing stories of his life and his work both with V and his many other projects. It was truly an unforgettable weekend.
Visit Michael Wright on Instagram!