We briefly met Robert at Rhode Island Comic Con in 2017 and were thrilled to hear that Robert was to be a guest at ComiCONN 2018! Thanks to our friend Erik Yacko, we were set up with our table and Laser Jeep directly in front of Robert's table. Throughout the day we wondered if we'd get a chance to talk to him since he was so popular, but we kept having fans who had gotten his autograph come to tell us that Robert couldn't wait to "climb ALL OVER that Jeep!" We didn't want to hope too much because we knew what a wonderful guest he is and so appreciative of all of his fans that he didn't even take a break all day so he could make as many fans happy as he could.
Late in the day Saturday, without warning, he just walked over to us! He was absolutely LOVING the Jeep and immediately did just as we'd been told he wanted to do and he climbed up to play with the laser cannon! When he came down (after lots of photos), Adina presented him with one of our signature CT-V mugs with "Robert" in Sirian characters, and he exclaimed, "OMG, I love this! This is going RIGHT in my office!" and gave her the biggest hug! He then went on to tell us a bunch of great stories and chat about sci-fi in general. You can watch the video here on our Facebook Page.
We were so thankful for that time with him and thought that was going to be it, but to our surprise on Sunday, at the end of the day he just walked on over again! We had asked his handler earlier if he might have time to sign our Jeep's door, like other V actors had, and there he was and that's exactly what he did. He got down on the ground, signed the door, and was happy to do it for us and for the love of V.
Visit Robert Englund on Instagram!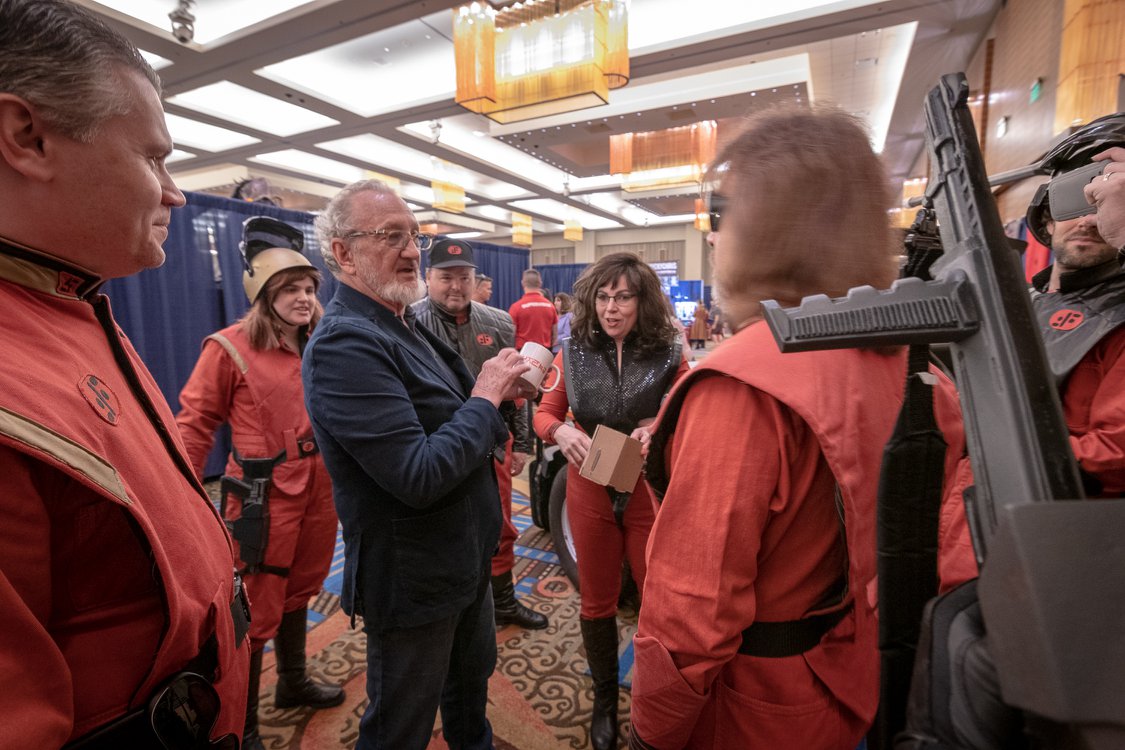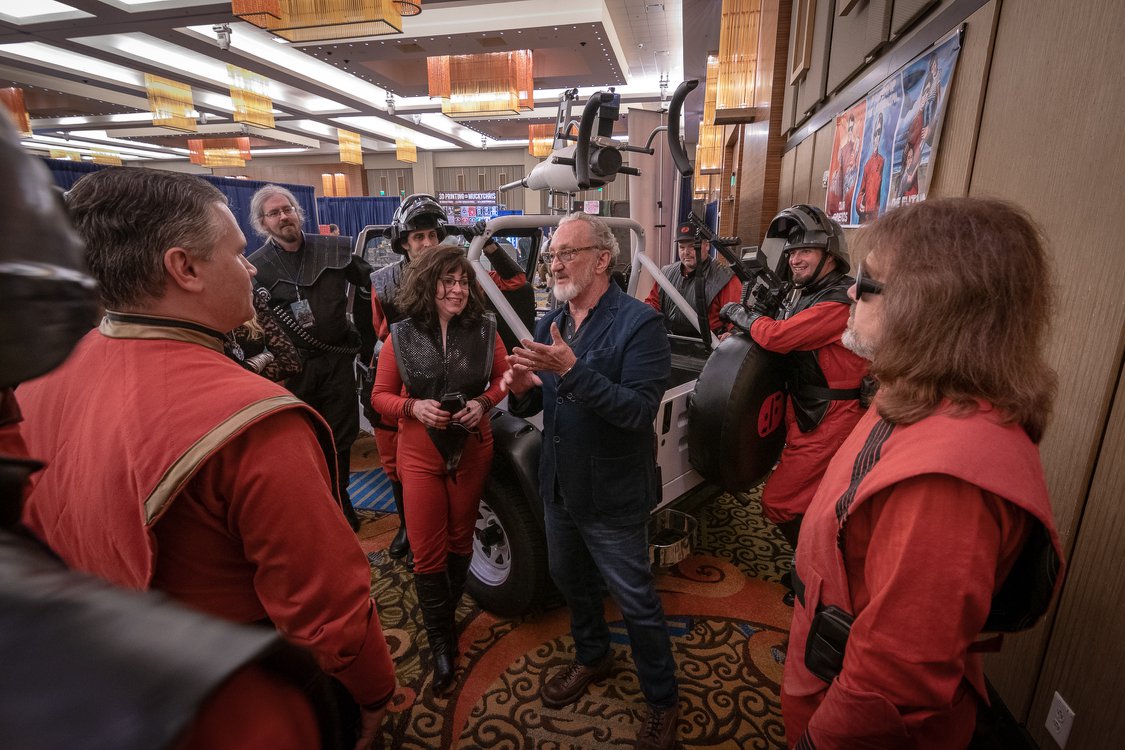 In 2019, it was announced that Robert would be at DragonCon along with Marc Singer and Jane Badler. Our group was contacted by those involved with their panels and invited to participate in them, so we quickly made arrangements, mustered up some troops and headed to Atlanta for Labor Day weekend!
Robert, as always, was focused on being at his table, signing pictures, and spending time with his many fans each day of the con. On Sunday he was in the V panel with Marc and Jane – the big three on stage together, talking about V, and sharing stories from their experiences together. We were fortunate enough to get some time with all three backstage before the panel began and Robert is always more than happy to talk about V, his fellow actors, and how much he loved being a part of it. When we reminded him of our first meeting at ComiCONN with the Jeep, he said, "OH YEAH – I *love* that Jeep!!!"
Another unforgettable time with these fantastic actors from this show we love – and we are so grateful for this and all such opportunities.