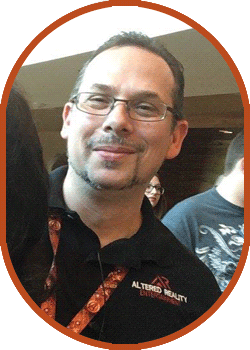 In 2013, Rhode Island Comic Con was still in its infancy. They announced that Sarah Douglas and Marc Singer (who would later have to cancel) as guests. We, too, were in our infancy and reached out to the con to see if there was anything we could do to support them since we were so excited to see V guests at a con! Turns out, Steve – one of the organizers – is a HUGE V fan! He responded that he'd love to have us there and to give us a table to exhibit our stuff – the works!
This was our very first table/exhibiton at a show and we had a great time spending time with Sarah and meeting so many V fans, and we thank Steve for giving us the first chance to show that we could do this and that there might be others who see the value and entertainment in what we do as well.
He has invited us to every show since and we owe him much for healping us to get were we are today.
Visit Altered Reality on Facebook for information about Rhode Island Comic Con and other related events!