Visit Sybil Danning on Facebook and at www.sybildanning.net
We were attending Chiller 2015 to meet a couple of V guests – Sybil being one of them! While we were talking to a guest at an adjoining table, her handler approached us to ask if WE would mind taking pictures with Sybil after the interview she was in the middle of giving! Of course, we said yes!
We waiting until she was done, went over to her table, took pictures, shook her hand and thanked her for the opportunity. She insisted on posing with one of our Visitor pistols, which we were more than happy to provide! We thanked her and moved on…
Then later, as we were having dinner in the bar with Leon Delaney – all of us still in uniform, mind you – we saw that Sybil was dining off to our right. We ordered a drink for her and when it came, she raised it in our direction and said thank you. We also had a little fun as Sybil and Adina did some joking "I'm keeping my eyes on you" gestures, all the while laughing. We went over to shake her hand again and thank her for being so accessible to the fans – and just a classy lady in general.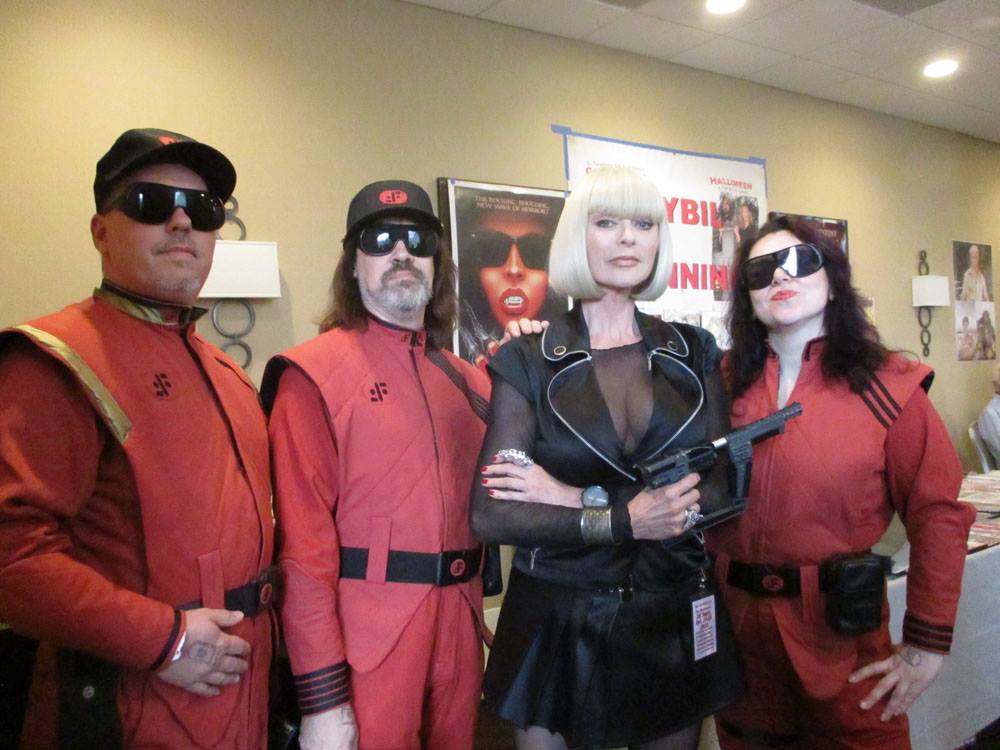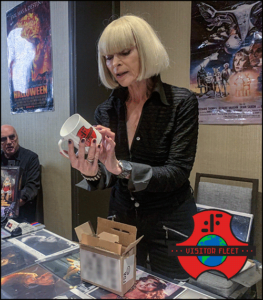 Fortunately, we had the opportunity to meet Sybil again at Chiller Theater in October of 2021 after a previous cancellation due to COVID-19. This time, we had a larger contingent of troops and a slew of members who wanted her autograph. We didn't get a chance to give her a mug the first time we met, so we made sure that we came prepared this time!
As was the case the first time we met her, she lit up as soon as she saw Visitors! Before she even saw us, her handler asked if we'd stick around because he knew she'd want to take a bunch of pictures with us, which we were completely happy to oblige!
The first thing we did when we approached her table was to present her with her mug. She was clearly touched and then insisted all of our autographs would be free. We'd already brought our own Visitor Fleet-styled photos to sign to save her money, and while we were grateful for the offer, we insisted on paying her for her autographs (it was hard to convince her handler to take our money!)! She took her time with each one, chatting with us the whole time, and then came out to pose for a ton of photos with the group.
Sybil clearly loves her V fans and as we've said many times before about everyone from this show that we've met, she was generous with her time, appreciative for the gifts and the love, and so welcoming and sweet to us. Completely a class act!